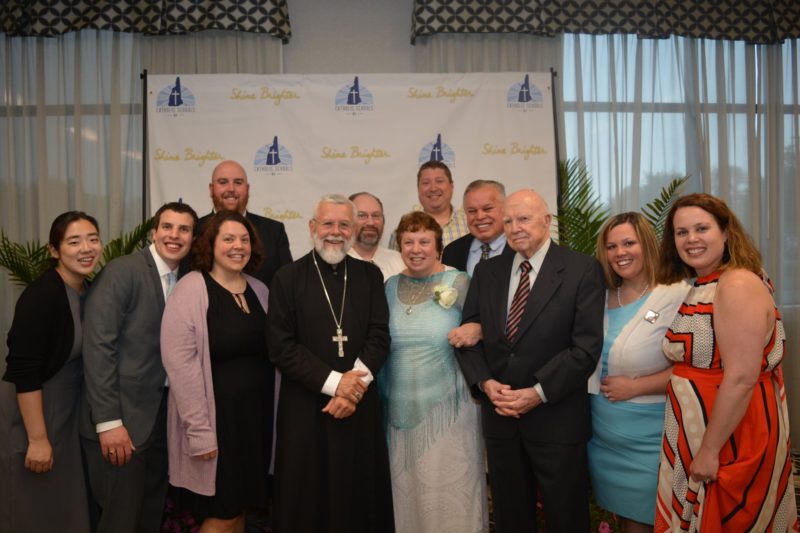 Mrs. Jones' Acceptance Speech
I want to thank each and every one of you for this recognition.  I also want to thank and salute my fellow candidates for their leadership and service.
This award is not about the recognition of an individual, it is the recognition of a community.  Each of us, administrators, family members, parents, staff and teachers make up that community.   The whole is far greater than any one part.
We are a community that provides the environment and possibilities for students to succeed.  Ultimately, it is the success of our students that garners the attention leading to this event.  Our students are successful because of the leadership and service each of us dedicates to our education and faith communities.
I feel that teaching is the definition and demonstration of servant leadership.   Our service facilitates opportunities to train and lead our students; inspiring in them the desire of a life-long commitment to our Faith.
Through our leadership and service, we provide inspiration in both significant events, and the small, day to day demonstrations of Faith, which have a deep, profound and long-lasting impact.  Building the Kingdom of God is a journey that we all live each and every day.  Our smallest actions and behaviors, all contribute to the inspiration we provide to students.  Teaching, similar to the sacramental vocations of religious life and marriage, is a vocation that serves, reinforces, and provides leadership each day.
Through the continued advocation of the Spirit of Saint John Baptist de la Salle award, the Diocese of Manchester has provided a platform where the efforts of Catholic educators can be showcased in a very positive manner.   I feel it is important that all diocesan schools should be recognized for the culture and philosophy that are embodied by this award.
Thank you.